Getting a lesson on open source "laws" from Richard Best of WP and Legal Stuff is the perfect way to end Season 4 of The Matt Report podcast.
I've admired Richard's work from afar for quite a while. His e-book, A Practical Guide to WordPress & the GPL, is a must-have for anyone launching a product business within the WordPress marketspace.  We distill the tricky GPL topics like, forking someone else's product and using it for your own business, and what exactly do you have to attribute with the GPL.
While our conversation is oozing in legal goodness (is that a thing?), please consult your own private attorney on these matters. The Matt Report cannot be held accountable for the actions you take after consuming this episode — but I will take credit for non-legal related wins. 🙂
At the end of the day, Richard is a great guy, and it was my honor to have him spend time with us today, closing out the season.
Interview with Richard Best
[ss_player]
THE END of Season 4
Make sure to thank my sponsors Pagely & Valet. Without them, this season could not be possible.
If you want to sponsor the show, or know someone who does, please contact me. Podcast sponsorships are a huge part of how I feed my family these days, so supporting the show however you can is GREATLY appreciated.
Season 5
Planning is already underway! First recordings are happening at the start of February, so look for new episodes to ship around the half-way mark.
I launched a book about podcasting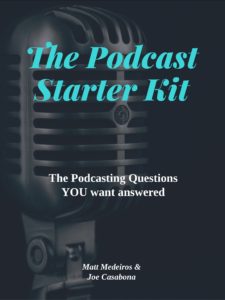 Things have been super-busy around here — I launched my first e-book! Want to start your own podcast? Pickup the The Podcast Starter Kit today. I plan on writing more about this experience later.
Thanks for listening, and be sure to get notified when the next season launches.