tl;dr: I've been in WordPress for 15 years. Ran an agency for 10 years. Producing a WordPress podcast for 11 years. Worked at a WordPress hosting company for 3 years. Kinsta has been the best experience for me and I highly recommend it if you can afford it.
Note: These are affiliate links. If you use them, I make a little cash. It helps pay for producing this podcast and hosting at Kinsta.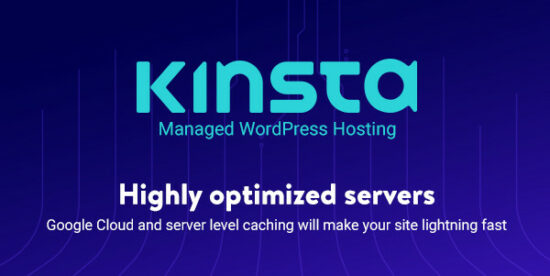 Listen to this review instead:
Pricing
Kinsta's pricing is a touch on the higher side of your typical Managed WordPress host.
A few month's prior to this post, they increased my monthly bill by +$10 USD. I didn't care.
The speed, support, and overall user experience has been fantastic. Some of that stuff I'll cover in a moment. If you can afford the "higher end" of hosting, $35/mo for 1 website (or $70 for two, which is what I pay) but pays for itself in overall value.
Support
Previous to moving my site to Kinsta, I was self-hosting at Digital Ocean.
I used a control panel that helped me manage sites and other basic functionality, but all troubleshooting and uptime concerns were mine to lose sleep over. And believe me, I did.
Kinsta provides a white-glove service to migrate your existing site over, which was the first interaction I had with their support. Well, besides the fact that I use to sell against them at a WordPress hosting company I worked at years ago…
They were fantastic!
The moved everything over in timely fashion and communicated with me the whole time. Migrating my WordPress website to Kinsta was a breeze.
Support response times
I didn't make a spreadsheet of tracked timestamps, but the 6 -10 times I've had a support question, they answered it in minutes.
No helpdesk ticket, no stupid robot "choose your own adventure" chat bot — a human on the other end. Helping. Me.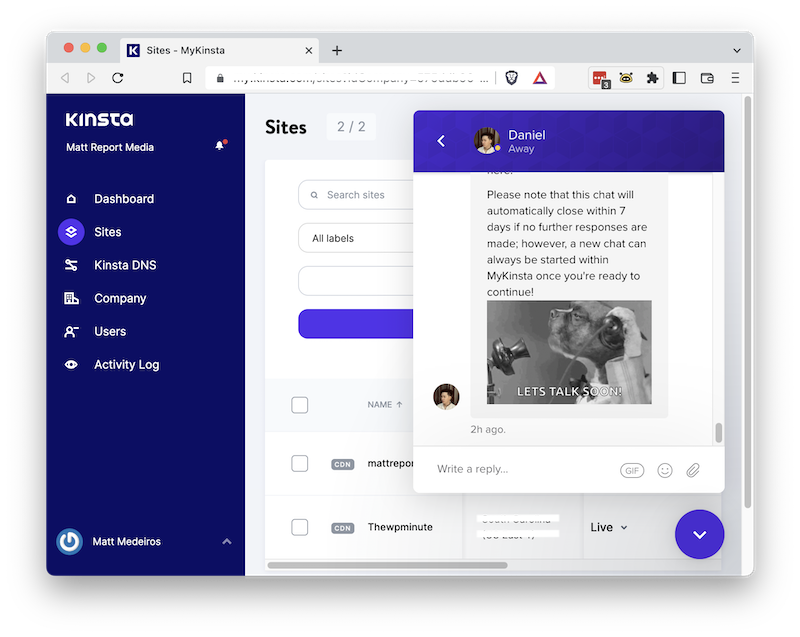 I think most top-tier managed WordPress hosting companies are just competing in the margins for features. Speed, backups, staging…we all expect that in 2022 from a decent host.
Support, on the other hand, is not created equal. Kinsta is leading the pack imo.
Speed
Uhh…fast. Really fast.
And I'm not talking just the front-end page speed tests. The admin was faster, when I was pulling up the post editor to write, everything felt snappier.
But…that's what I expected. I didn't expect my DIY setup to lightning quick. Sure, I was a server admin 20 years ago, but that was twenty years ago!
I expected that, if I were going to pay 3x what it cost me to host on my own servers, that speed was going to be part of the deal. And best of all, it wasn't me that had to worry about it.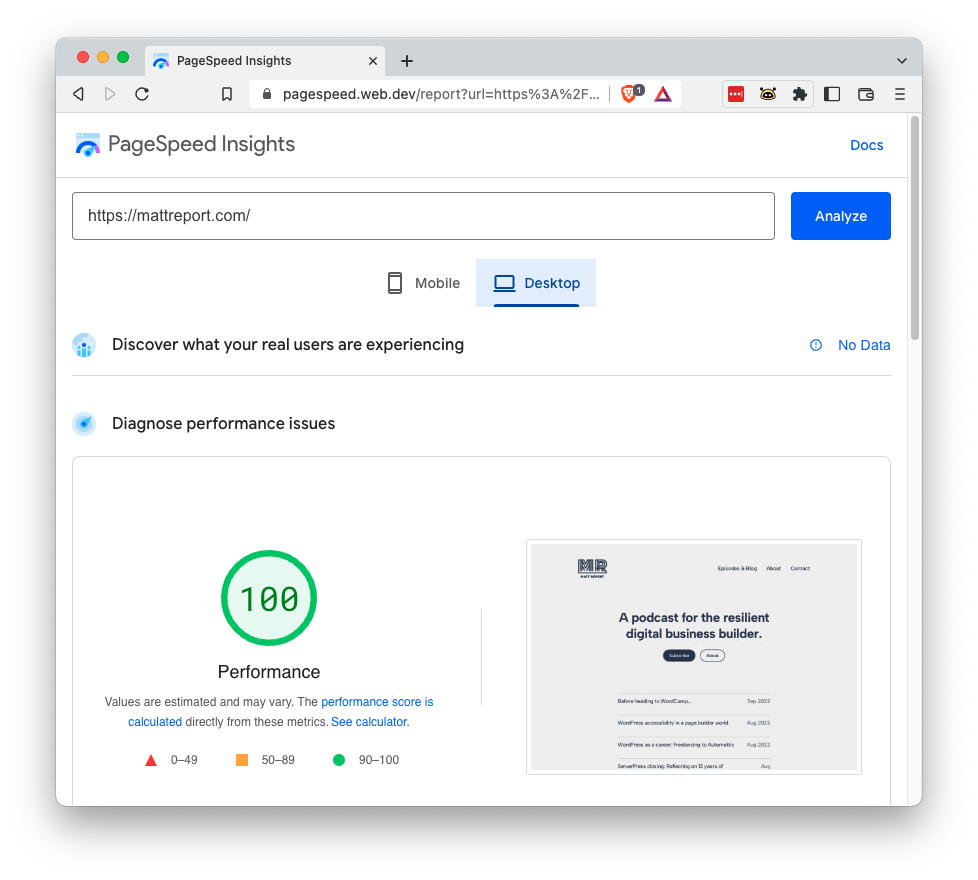 Let me pull back on all this sugar coating for a second.
There are a lot of great hosting companies that get flack for poor speed results from their customers. Heck, I'm sure Kinsta gets their fair share. What WordPress hosting customers need to realize is this:
Invest in a solid hosting company
Invest in a well-coded WordPress theme
Understand the plugins you're using
If you found this review because your web host is slow, Kinsta might not be the answer you're hoping for. Did you get a solid theme? Are you using too many plugins?
Optimize your WordPress stack before making the swtich.
Control Panel Features
If there's no button for it, does it even exist?

Me, I said that
At my old WordPress hosting gig, we lacked a lot of features. Features that, back then, we'd lose deals to Kinsta to because the customer couldn't find them.
Some of them existed, but they were too technical. There was not — say it with me — a magical button. Kinsta has the buttons, and they have a lot of them.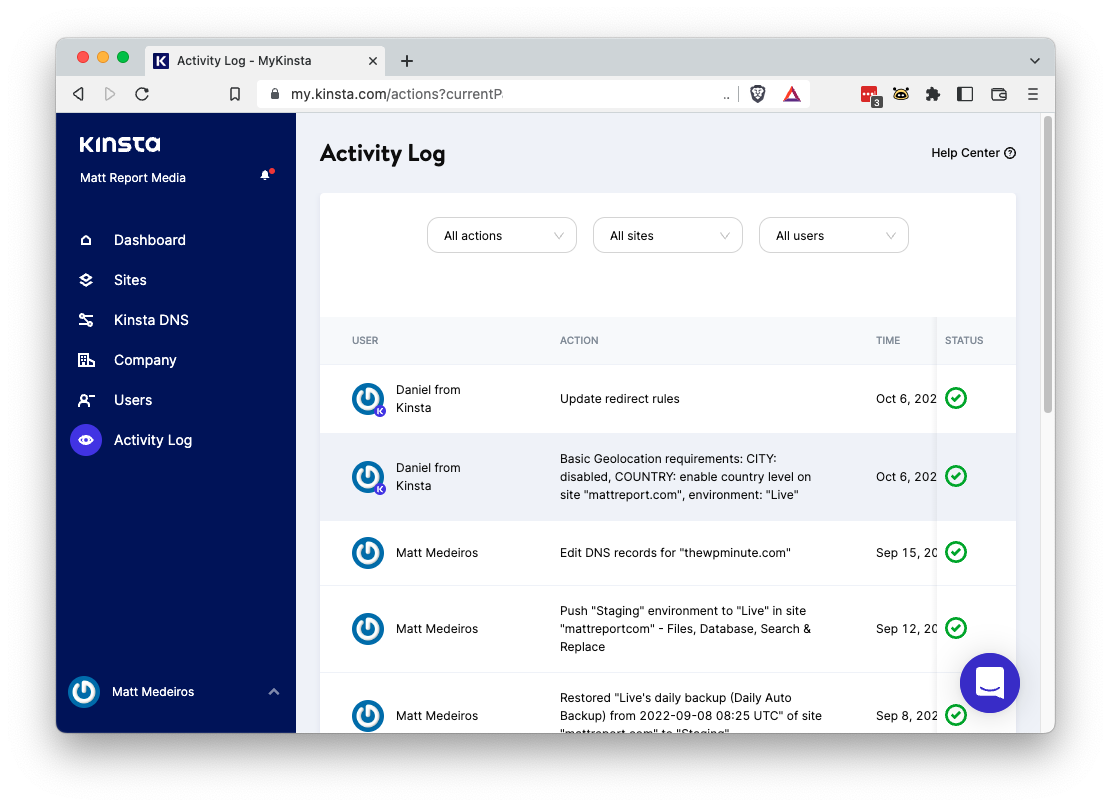 This isn't a technical review, just an honest dialogue about my experiences using Kinsta. My favorite features that I use regularly are:
Staging/backup process at Kinsta is the cleanest I've experienced
DNS records and management are a breeze
Graphs and reporting keep me in-the-know about traffic and my monthly bill
Activity log will show me any configuration or account changes that my login, my team's login, or even Kinsta's support have made.
Kinsta's control panel gives you everything you need to manage your WordPress installs, clone/deploy staging environments, and dial in your infrastructure.
It doesn't have everything and the kitchen sink like cPanel…but that's the point.
That's it for my Kinsta review. If you think Kinsta is right for you, please consider clicking the button above to sign up. If the WordPress community, ecosystem, or economy is important to you — please tune in to my podcast.